The airport terminal is open daily 90 minutes from the first arrival/departure in the morning to 90 minutes after the last arrival/departure in the evening. Our corporate office hours are Monday to Friday, 8:00am – 5:00pm.
For enquiries outside of these hours please email us info@pnairport.co.nz.
Shops at the airport
From practical accessories to inspiring gifts and goodies, Relay stocks an impressive range of goods. This includes books, newspapers, magazines, sweet treats and drinks, gifts and essential travel products tailored to the needs of any traveller. Relay is conveniently located on the ground floor close to the Air New Zealand check-in area. You can't miss it!
Snacks, meals, drinks and more
Open from 5am until the last flight departs, seven days a week, Cafe Ignition offers an appetising selection of hot and cold cabinet food as well as a tempting range of a` la carte menu options – not to mention great coffee to boot.
Located on the first floor of the terminal building, offering great views of the airfield, Cafe Ignition is the perfect place to relax before your flight or while you wait for your visitors to arrive!
Cafe Ignition Facilities
Wheelchair-friendly,
USB charging ports for customers
Fully licensed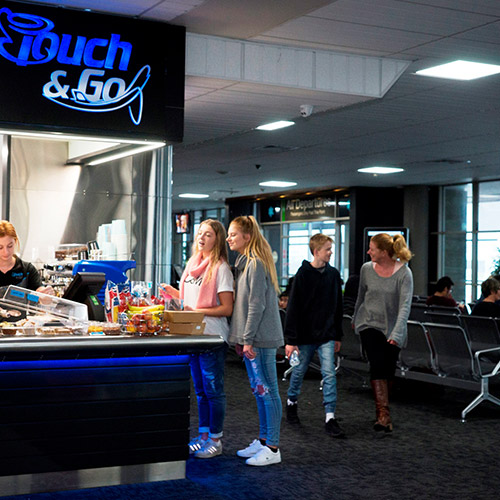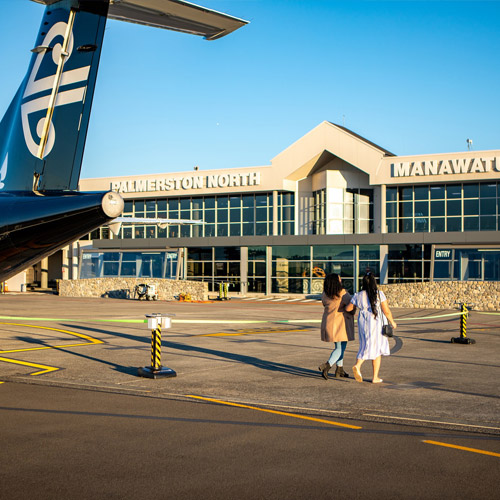 How can we help you?
If you have any questions at the airport, head to our Airport Help desk located on the ground floor just past the rental car kiosk. Press the help button from the desk phone to speak directly to a member of our team. Whether you need information about our services or facilities or have any other questions, just ask!
If you require information, advice or assistance in advance of visiting the airport, please call us on (06) 351 4415 or email us info@pnairport.co.nz
Keeping you in the know
Wherever your journey may take you, we provide a full range of helpful information and services to help you along the way.
WiFi and Charging Stations – Keeping You Connected
We provide unlimited free Wifi access throughout the terminal, so you can work, play and stay in touch while you're here. Need a boost?
Don't let your day be ruined by a flat battery on your phone, laptop or tablet. There are two charging station areas available to all airport visitors – one at the bench seats in Café Ignition, and the other at the top of the stairs opposite the Union Airways Room. Please remember not to leave your device unattended.
WiFi Instructions
How to log on
1.    Connect your device to the wireless network called FlyPalmy_FreeWifi_by Inspire_Net.
2.    Start your internet browser. Palmerston North Airport's wireless hotspot page will appear automatically.
3.    Accept the usage terms and conditions.
Air New Zealand Regional Lounge
Enjoy our members-only Air New Zealand Regional Lounge. Located on the first floor of the Airport terminal, Air New Zealand's Regional lounge, features large windows offering views onto the runway below and seating for up to 120 guests, with four different seating areas to choose from.
Stay powered up with most seats having direct access to power/USB charging. Enjoy light refreshments from the new self-service buffet and drinks station before your flight departs. Other features include Wi-Fi, business desk and photocopier/printer or sit back and relax with the latest magazines and TV viewing.
Open one hour before the first flight until the last departure.
Water
There is a Drinking Water Refill Station situated on the ground floor next to Touch & Go. You can refill your drink bottle or simply drink from the bubbler.
Drinking water is also available from the windowsill at Café Ignition.  
Luggage Trolleys
These are available throughout the terminal and in our car parks.
Travelling with Pets
If you're travelling with a pet, you'll need to ensure it's in a crate or cage before you enter the airport, and at all times in the terminal. Guide dogs are permitted.
Find out more about travelling with pets by contacting your airline directly here.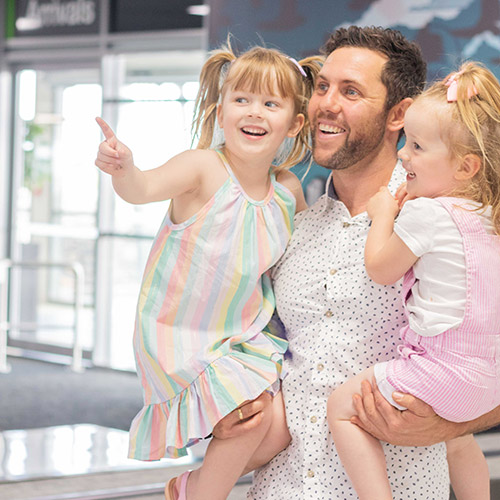 24/7 General Enquiries
06 351 4415
info@pnairport.co.nz
Palmerston North Airport
Airport Drive, Palmerston North 4442 NEW ZEALAND
PO Box 4384,
Palmerston North 4442